UNIB's cooperation with University of New England (UNE) Australia continues to be improved.
Recently, not only sending two students to have a student exchange through internship program, UNIB lecturer, Dr.
Yansen also took collaborative research with UNE lecturers, even Dr.
Yansen was appointed as Adjunct Assoc Professor or

Non-Permanent Professor

at UNE.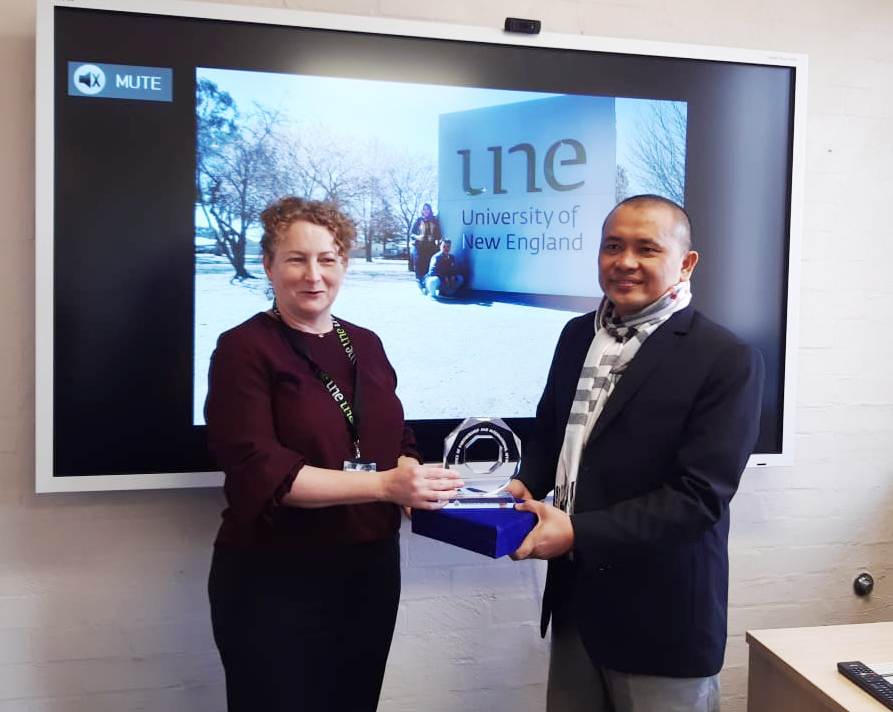 Information compiled by PR Team from Office of Partnership and International Affairs (UPT KSLI), stated that the two students having the internship program in September 2019 come from  Management Department of FEB and Information Systems Department of Faculty of Engineering. This activity was appreciated and fully supported by UNE.
Further, in September 2019, one of the lecturers of the Faculty of Agriculture who also served as Head of UPT KSLI UNIB, Dr. Yansen, applied research collaboration with Prof. Caroline Gross from UNE's School of Environment and Rural Sciences. This activity was supported by research grant funding from Office of Research and Community Service of UNIB (LPPM) and also from UNE.
By applying this joint research, Dr. Yansen was later appointed as Adjunct Assoc. Professor or Non-Permanent Professor at School of Environment and Rural Sciences (Ecosystem Management) of UNIB. Thus, Dr. Yansen gained access to the resources available at UNE, both research facilities and other carrying capacity.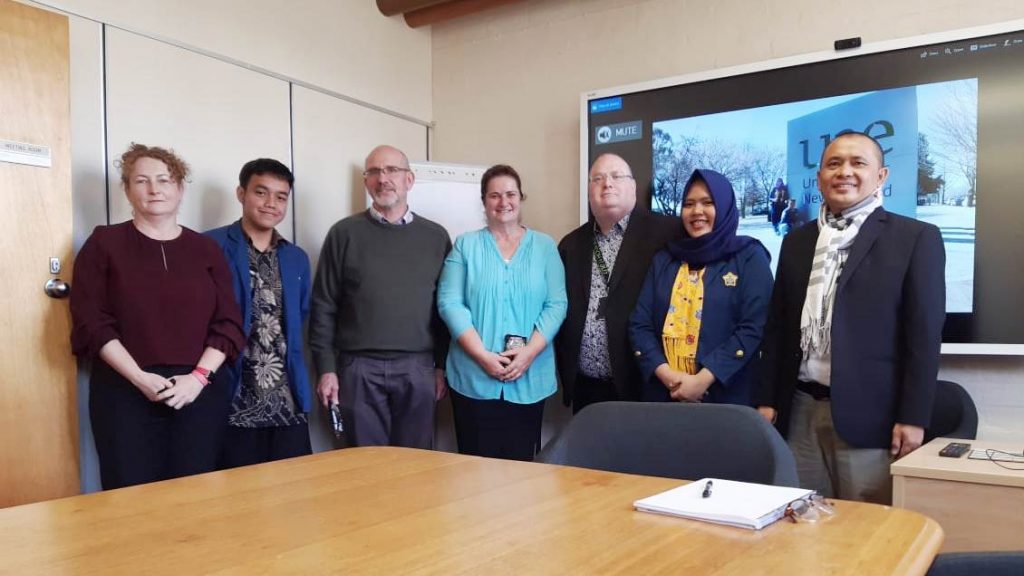 The appointment of Dr. Yansen as a Non-Permanent Professor at UNE certainly provides opportunities for increased broader collaboration activities between UNE and UNIB. In this occasion, Dr. Yansen took time to meet with UNIB students participating in the Internship program and he also had a meeting with the Director of the International Office of UNE, Ms. Inggrid Elliston and Dr. Philip Thomas from Human Resources Development (HRD) and Research Services who is also the Coordinator of the Ph.D Innovation Program.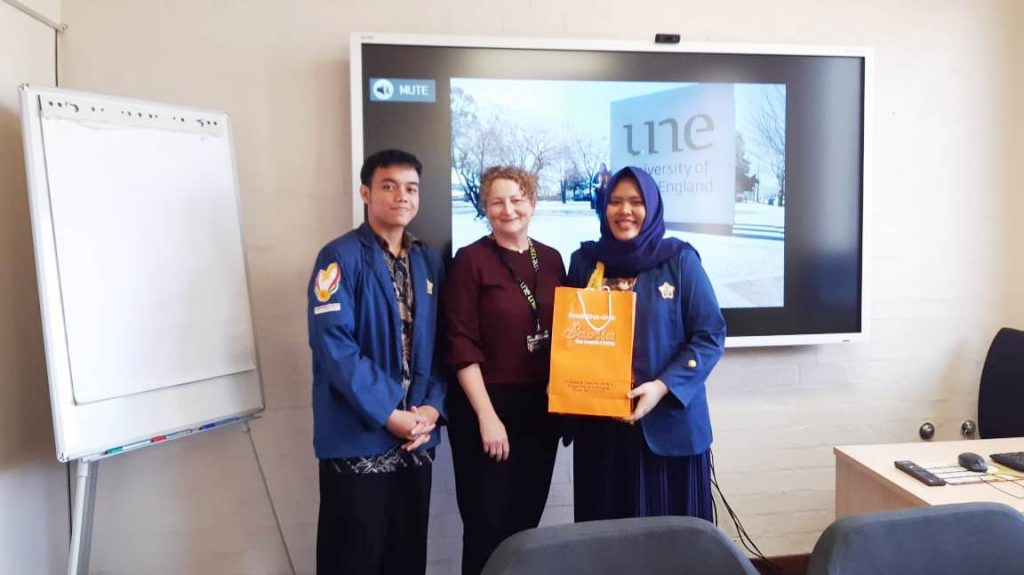 From the meeting, not only discussing the improvement of the student exchange program, UPT KSLI UNIB and UND HRD also designed the cooperation to open access and connect potential UNIB's lecturers to continue their Doctoral studies at UNE.
Then, they have discussed the development of joint research because UNE has very sophisticated facilities to support its superior programs both in agriculture and animal husbandry.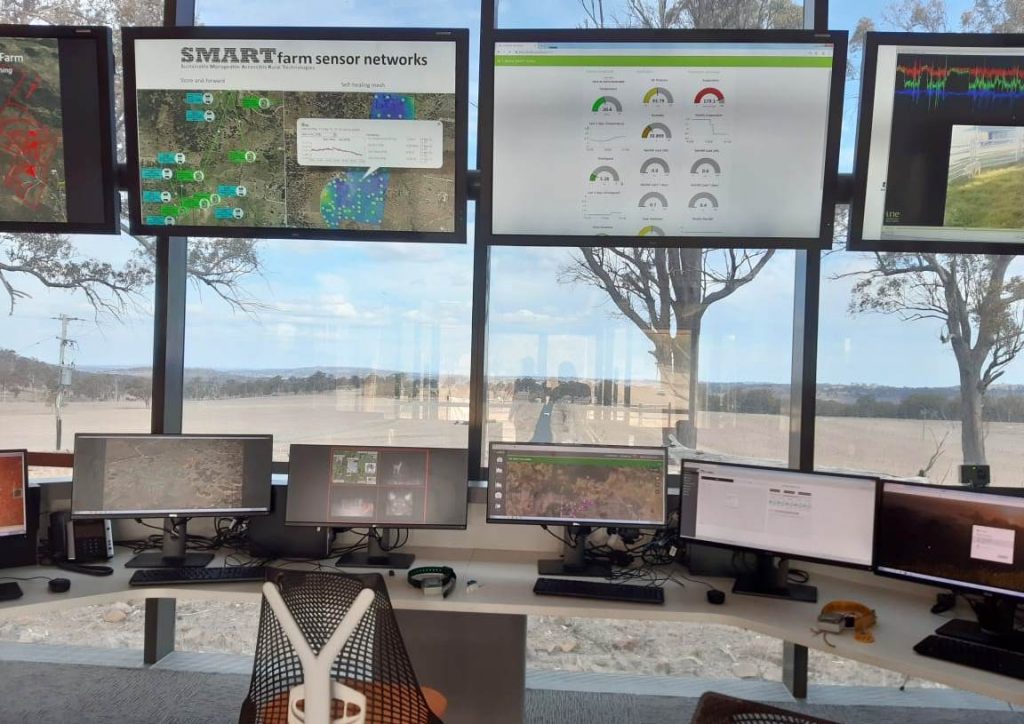 "Agriculture and animal husbandry are superior at UNE rather than others program such as Ecosystem Management, Business, Law and Information Technology. So, for UNIB lecturers who are interested in building research relations with UNIB, please contact UPT KSLI UNIB, "said Dr. Yansen.
Added by Dr. Yansen, the good collaboration between UNIB and UNE Australia initially began in 2017 which was brought through a research collaboration between Prof. Safnil from FKIP UNIB with Dr. Zifirdaus Adnan from UNE. Institutional cooperation continued and was developed with a "legal umbrella" in the form of a Memorandum of Understanding (MoU) signed by both parties in April 2019.[Hms1/eve].