AWAL September ini, kampus UNIB kedatangan 10 mahasiswa luar negeri yang ikut program pertukaran mahasiswa (student exchange). Dari 10 mahasiswa itu, tujuh diantaranya sudah tiba di UNIB dan diterima langsung oleh Rektor UNIB Dr. Ridwan Nurazi, SE, M.Sc di ruang kerjanya, Rabu (2/9/2015).
Ke tujuh mahasiswa itu adalah Ms. Sokuntheavy Song, Mr. Ravy Khieng, dan Mr. Roeury Yon dari University of Battambang (UBB) Kamboja. Kemudian Mr. Do Duy Anh, Mr. Nguyen Quoc Khang, dan Ms. Tran Thi Hai Ha dari Banking University of Ho Chi Minh (BUHCM) Vietnam, serta Mr. Douglas David Lawton dari University of North Carolina at Greensboro, USA.
"Tiga mahasiswa lagi yang akan hadir yaitu Ms. Chitakan Boonkongtong dan Ms. Khwanta Hnuplong dari Walailak University – Thailand dan Mr. Shingo Takagi dari Gifu University – Jepang. Kalau tidak hari ini, besok mereka sudah tiba di UNIB," ujar Kepala UPT Kerjasama dan Layanan Internasional (KLI) UNIB, Heri Dwi Putranto, Ph.D ketika mendampingi para mahasiswa ketika beraudiensi dengan Rektor.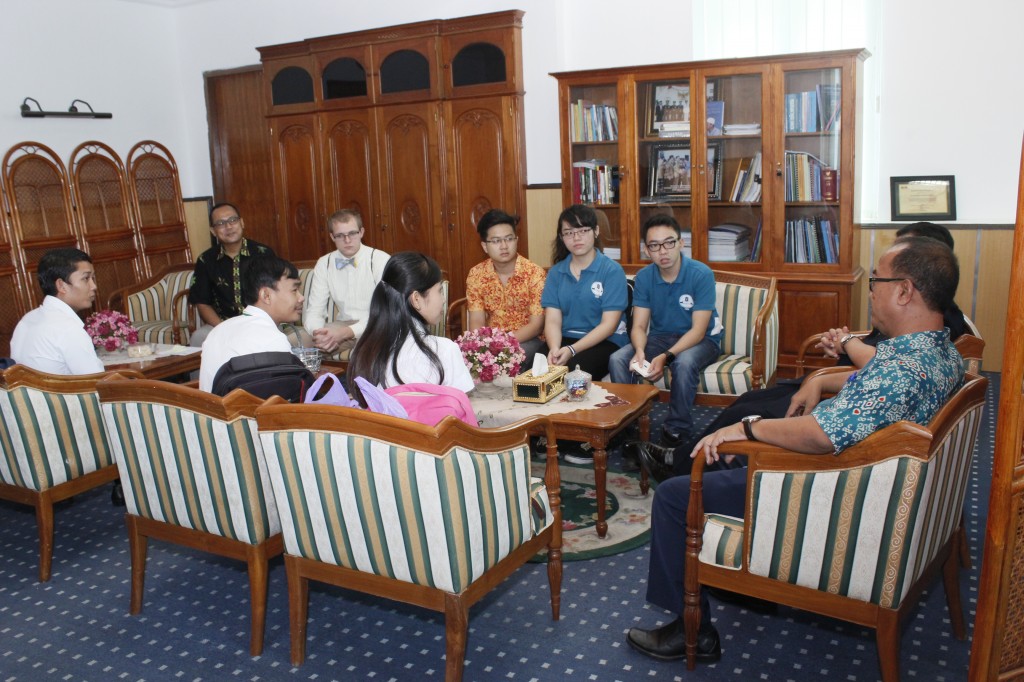 Heri menjelaskan, lamanya para mahasiswa luar negeri itu kuliah di UNIB berpariasi, ada yang lima bulan, dua bulan dan ada yang hanya satu bulan. Mereka akan belajar bahasa Inggris, Bahasa Indonesia, Kesenian dan Budaya, serta ada juga yang belajar Biologi dan melakukan penelitian. "Semuanya akan belajar di Fakultas Keguruan dan Ilmu Pendidikan (FKIP)," ujarnya.
Selain mahasiswa tambah Heri, dalam waktu dekat UNIB juga akan kedatangan dua orang dosen dari Thaksin University – Thailand dan Dua orang Staff dari University of Battambang (UBB) Kamboja. "Jika tida ada halangan, dosen dari Thaksin University akan tiba di UNIB tanggal 7 September dan Staff UBB akan tiba tanggal 12 September. Mereka juga akn melakukan proses belajar dan mengajar di UNIB dalam rangka saling bertukar ilmu pengetahuan," papar Heri.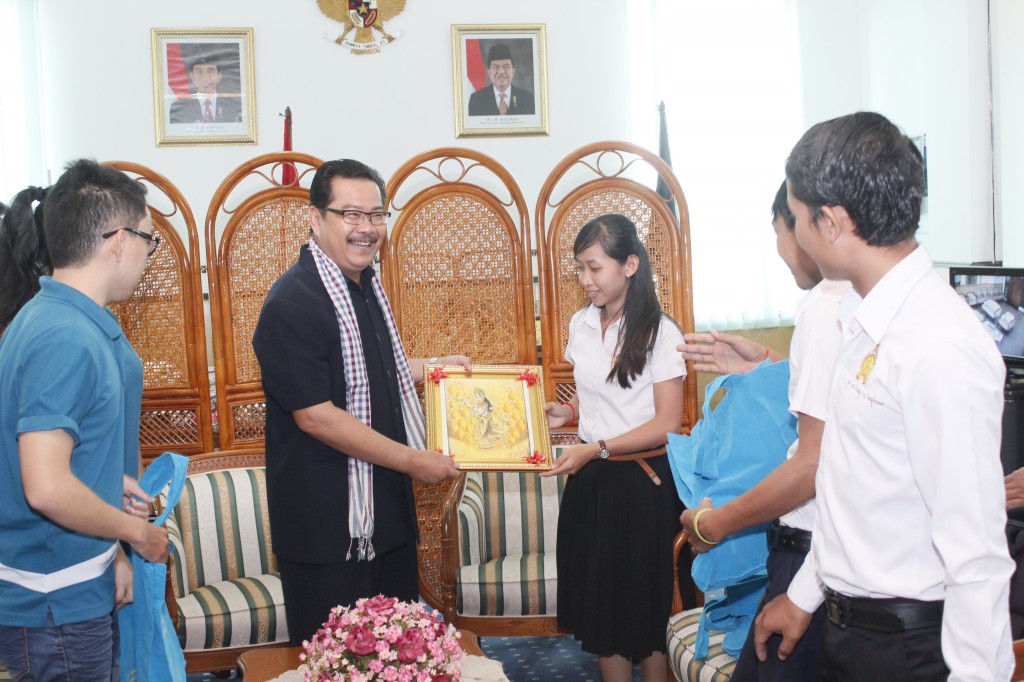 Rektor UNIB Dr. Ridwan Nurazi, SE, M.Sc didampingi Wakil Rektor IV Bidang Perencanaan dan Kerjasama Prof. Dr. Widodo dan Wakil Rektor III Bidang Kemahasiswaan Dr. Mochamad Ridwan, M.Sc, menyambut baik program student dan staf exchange, serta mengucapkan selamat datang kepada para mahasiswa luar negeri yang baru tiba di UNIB.
"Selamat datang di kampus UNIB, semoga melalui program ini Anda bisa saling bertukar informasi dan pengetahuan baik antar mahasiswa maupun dengan dosen. Bengkulu memiliki banyak kesenian kebudayaan dan masyarakatnya ramah-ramah. Semoga selama di Bengkulu Anda mendapatkan banyak pengalaman yang bermanfaat dan dapat diceritakan dengan teman-temannya di luar negeri," ujar Rektor.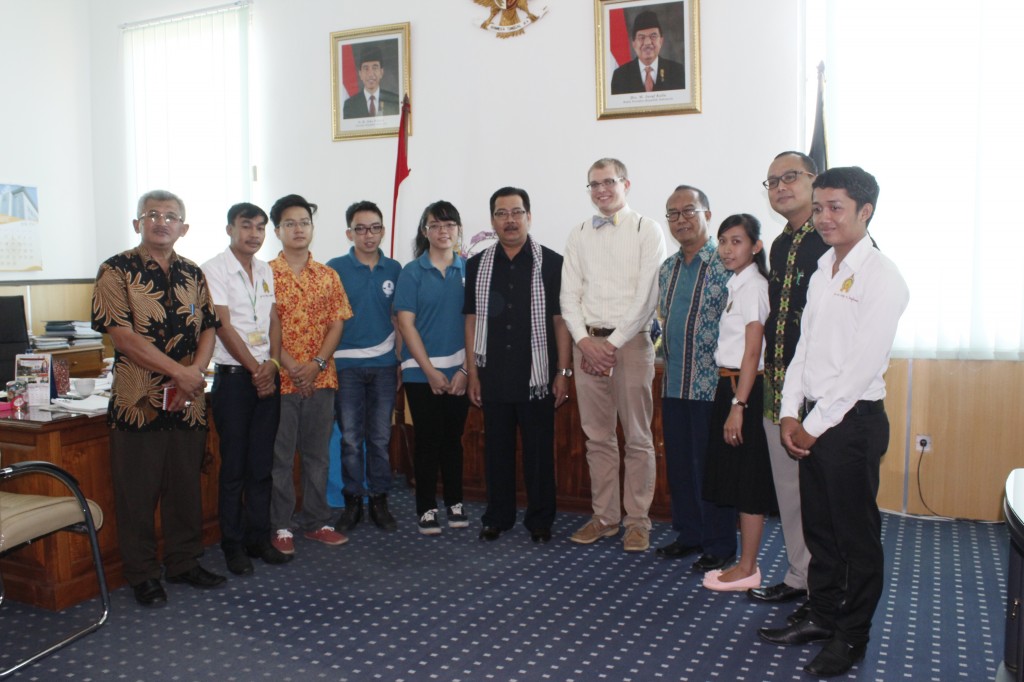 Usai berbincang penuh keakraban menggunakan dialeg Bahasa Inggris, Rektor dan para mahasiswa luar negeri itu saling bertukar cindera mata dan melakukan foto bersama. Berikutnya, para mahasiswa langsung menuju Dekanat FKIP yang diterima langsung oleh para pimpinan dan mahasiswa di fakultas tempat para mahasiswa akan melakukan studi. [humas1]