Program of World Class Professor (WCP) of Ministry of Research, Technology, and Higher Education made a real contribution to University of Bengkulu.
Lecturer at the Department of Chemistry of FMIPA UNIB, Dr.
Sal Prima Yudha who is one of the recipients of the WCP program together with his collaborator, Prof.
Jeong In Han from Dongguk University, South Korea, has agreements among institutions for the development of cooperation.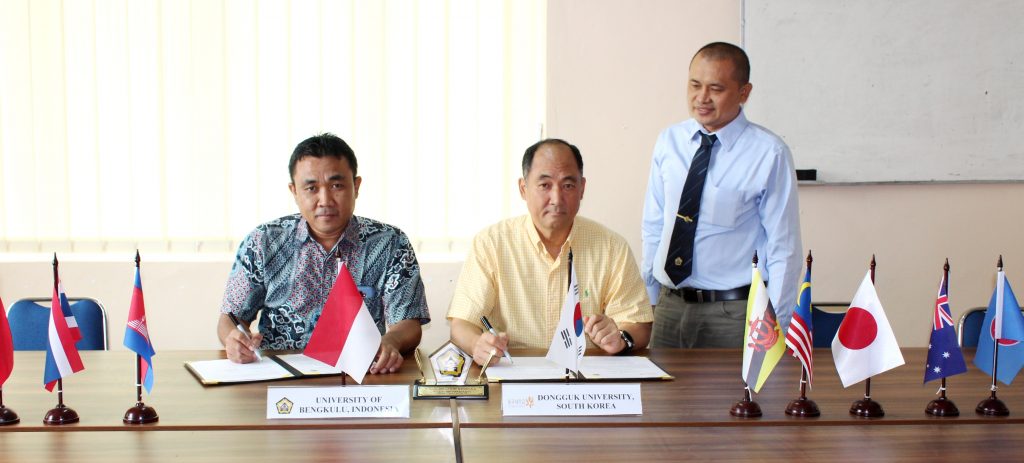 This Cooperation Agreement or Scientific Agreement is between the Department of Chemical and Biochemical Engineering, Dongguk University with FMIPA UNIB and is signed by Dr. Zul Bahrum Caniago as Dean of FMIPA and Prof. Sung-Kyu Hong as Head of Department.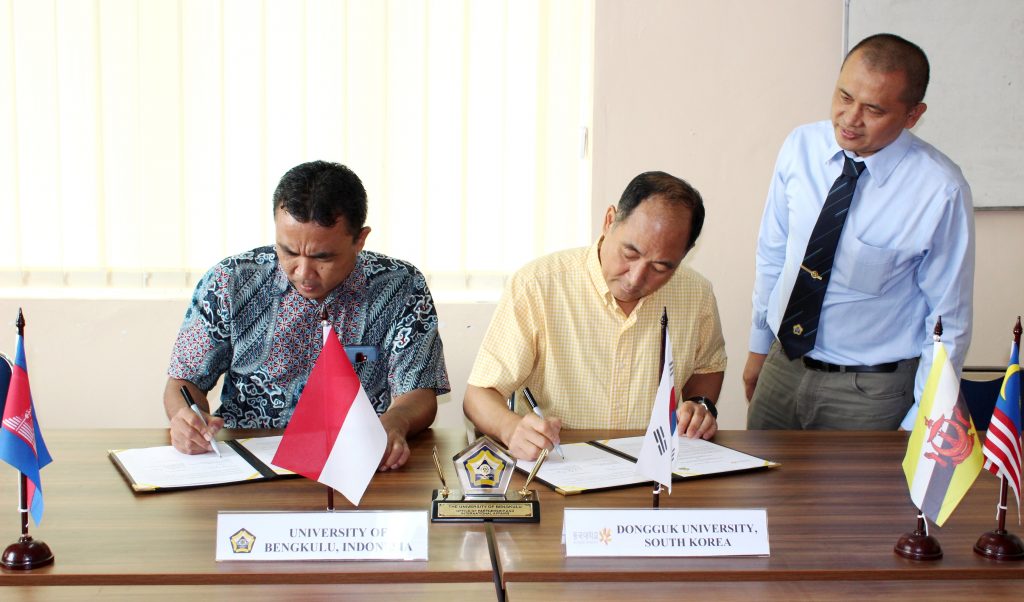 Facilitated by the Office of Partnership and International Affairs (KSLI) of UNIB, the MoU was signed by the parties symbolically carried out by Dr. Sal Prima Yudha S and Prof. Jeong In Han as a witness and also key implemetators.
The MoU signing ceremony was witnessed by the Head of KSLI UNIB, Dr. Yansen, S.Hut, M.App.Sc and the Head of Subdivision of KSLI UNIB, Agus Suyanto, S.Sos, M.IP and the staffs, in the international meeting room of KSLI office, Friday morning (8/16/2019).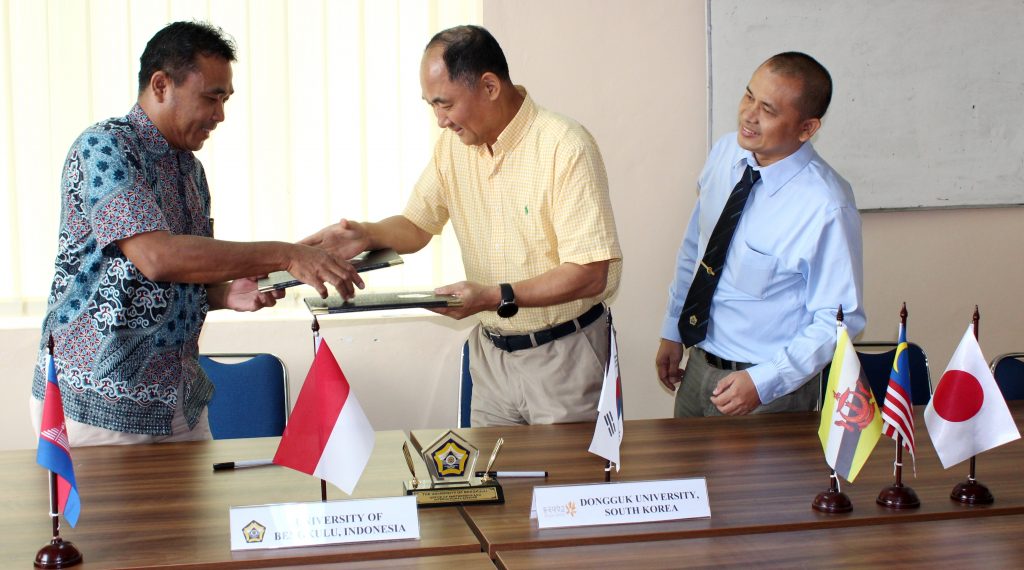 In the Scientific Agreement, the scope of cooperation includes joint research and educational activities, staff and student exchanges, joint conferences, exchange of academic materials and others.
This collaboration is expected to increase joint activities between the two universities. Then for UNIB itself, this activity is part of efforts to increase the number of overseas cooperation networks in the context of increasing international relations towards achieving the vision of UNIB to become a World Class University (WCU).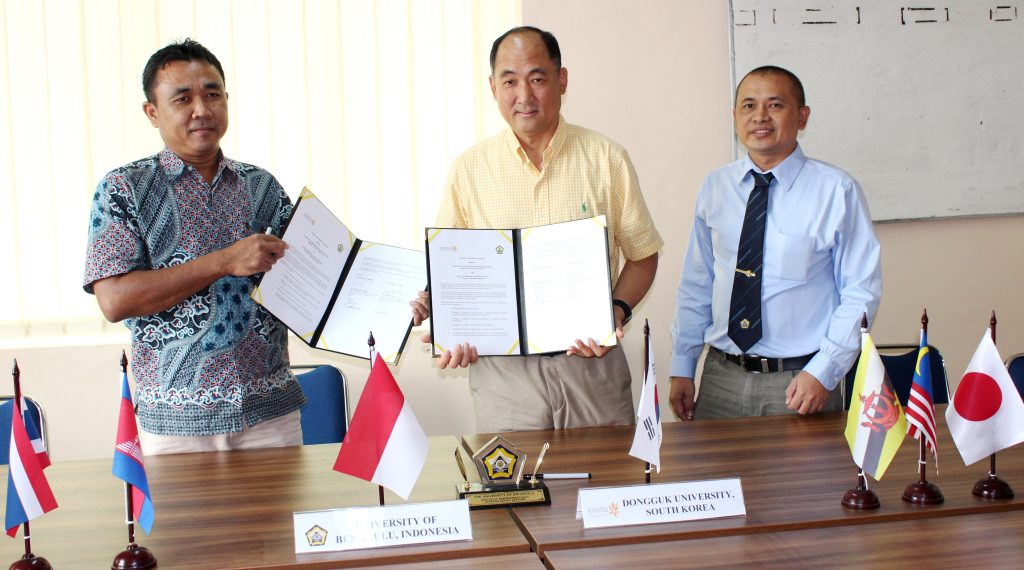 Previously, as part of the World Class Professor program, Prof.
Jeong In Han and Dr.
Sal Prima Yudha shared experiences and information with UNIB leaders and dozens of UNIB lecturers and researchers on various aspects related to writing reputable international journal articles.
This activity was packaged in the form of a workshop organized in collaboration with FMIPA UNIB and the Institute of Research and Community Services (LPPM), in the meeting room of building B , Tuesday (08/13/2019).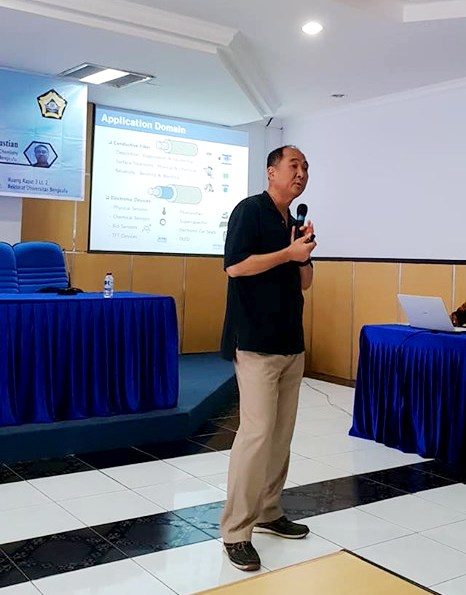 Then, Prof. Jeong In Han from the Department of Chemical and Biochemical Engineering of Dongguk University, South Korea, was also invited by FMIPA UNIB to share knowledge in One Day Seminar in the rectorate building, Thursday (08/15/2019).

The seminar, which was attended by dozens of students and lecturers at the Faculty of Mathematics and Natural Sciences, took the theme "Dependent of Advanced Materials Based on Natural Resources.". In this occasion, Prof. Dr. Morina Adfa was also there from FMIPA UNIB as a speaker..[Hms1/KSLI/eve].