PROFESOR dari University of Electro-Communications (UEC) Tokyo, Jepang, Yasuhide Hobara, bertemu dengan pimpinan Universitas Bengkulu yang diwakili oleh Wakil Rektor Bidang Perencanaan dan Kerjasama, Prof. Widodo, dan Kepala UPT Kerjasama dan Layanan Internasional, Dr. Heri Dwi Putranto, di ruang Rektor Unib, Kamis (12/11/2015).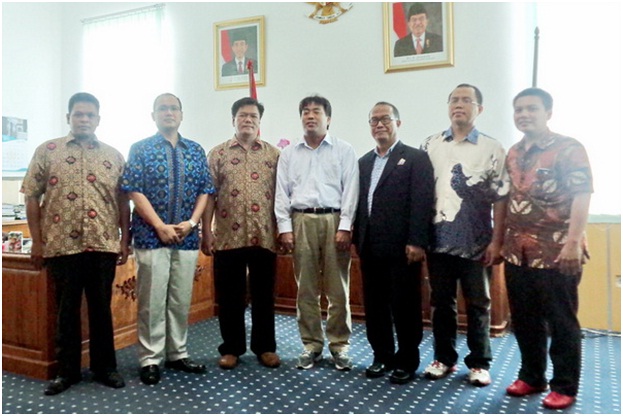 Dalam pertemuan yang turut dihadiri Dekan Fakultas Teknik, Dr. Khairul Amri, ST, MT, dan beberapa dosen dari Program Studi Teknik Elektro, Hobara menyampaikan maksud kunjungannya ke Universitas Bengkulu. Dia menggagas kemungkinan menjalin kerjasama yang akan memberikan manfaat bagi kedua institusi.
Hobara berharap kerjasama antara Unib dan UEC segera terealisasi dalam waktu dekat. Kerjasama tersebut dapat dimulai dengan kegiatan mobility program yang nantinya dapat terus ditingkatkan ke tingkat yang lebih tinggi.
Dalam kesempatan itu, Prof. Widodo dan Dr. Heri Dwi Putranto menyambut baik maksud tersebut. Mereka berharap rencana ini dapat terwujud sehingga mendukung Unib mewujudkan visi menjadi universitas berkelas dunia. Saat ini unib telah memiliki kerjasama dengan Gifu University di Jepang.
Profesor Yasuhide Hobara merupakan kepala Pusat Riset Seismo-Electromagnetics di University of Electro-Communications Tokyo. Penelitian-penelitiannya berhubungan dengan observasi dan penjelasan mengenai fenomena elektromagnetik di ruang angkasa dan lingkungan global dan menciptakan peta bahaya petir serta indikator pemanasan global dan prediksi gempa.
University of Electro-Communications sendiri menurut data webometrics merupakan salah satu universitas terbaik di Jepang yang masuk dalam 50 besar dari sekitar seribu universitas di negeri sakura.
Hobara tiba di Bengkulu hari Rabu, 11 Nopember, bersama seorang dosen Teknik Elektro Unib yang sedang menempuh pendidikan S3 di bawah bimbingannya di Jepang, Hendy Santosa, ST, MT.
Selain menjajaki kemungkinan menjalin kerjasama formal dengan Prodi Teknik Elektro Unib, mereka juga memberikan kuliah umum di hadapan dosen dan mahasiswa Fakultas Teknik yang mayoritas berasal dari Prodi Teknik Elektro, serta memasang alat pemantau frekuensi sangat rendah di gedung laboratorium Fakultas Teknik. [Rosa] [Sumber: te.unib.ac.id]