DUA orang dari Kedutaan Besar Amerika Serikat, Trevor R Oslon selaku Deputy Consolate of the USA dan Dian Lumbantoruan selaku Public Affairs Assistant, Selasa pagi pukul 09.00 WIB berkunjung ke Universitas Bengkulu. Mereka membawa dua penari dan musisi yang berasal dari suku asli Amerika, yaitu Kevin Locke dan Wayne Silas.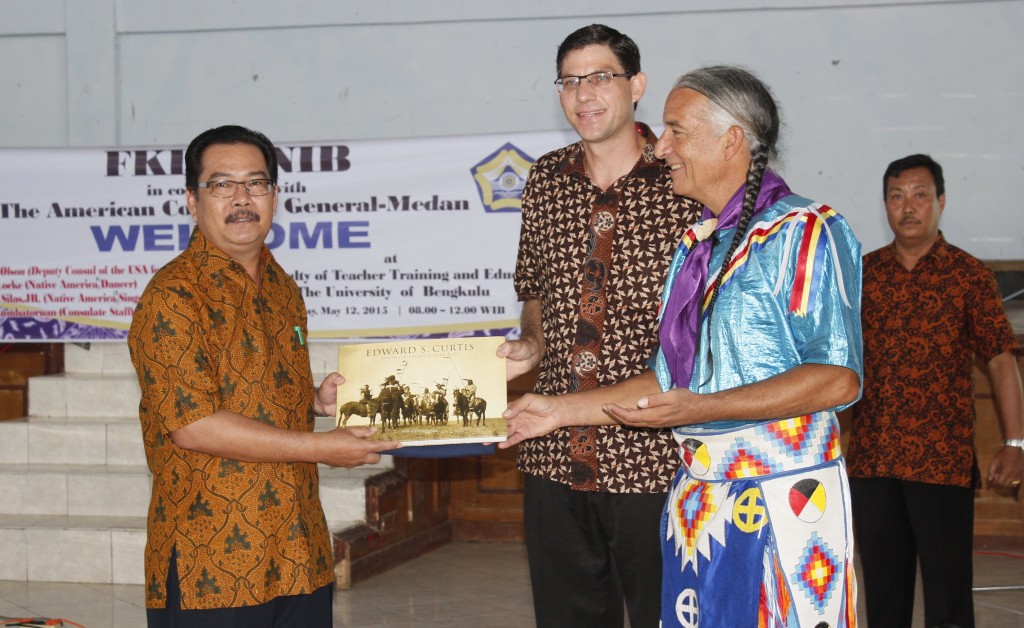 Kehadiran perwakilan Kedubes AS itu disambut hangat oleh Rektor UNIB Dr. Ridwan Nurazi, Dekan dan pejabat FKIP UNIB lainnya. Kemudian kehadiran mereka juga disambut antusias dan sangat dinantikan oleh ratusan mahasiswa yang sejak pagi sudah memadati gedung serba guna (GSG) UNIB sejak pagi. Pasalnya, perwakilan Kedubes itu bukan hanya melakukan kunjungan biasa tetapi untuk mempresentasika dan mementaskan kesenian tradisional Amerika.
Kegiatan ini merupakan salah satu implementasi kerjasama antara FKIP UNIB dengan Kedubes AS dalam rangka saling memperkenalkan kebudayaan. "Perwakilan Kedubes AS bisa melihat secara langsung kebudayaan Bengkulu seperti musik dol yang dipentaaskan para mahasiswa UNIB, dan kita juga bisa melihat tarian dan musik tradisional Amereka yang ditampilkan penari dari suku asli Amereka," ujar Ketua Prodi Bahasa Inggris FKIP Unib, Syafrizal.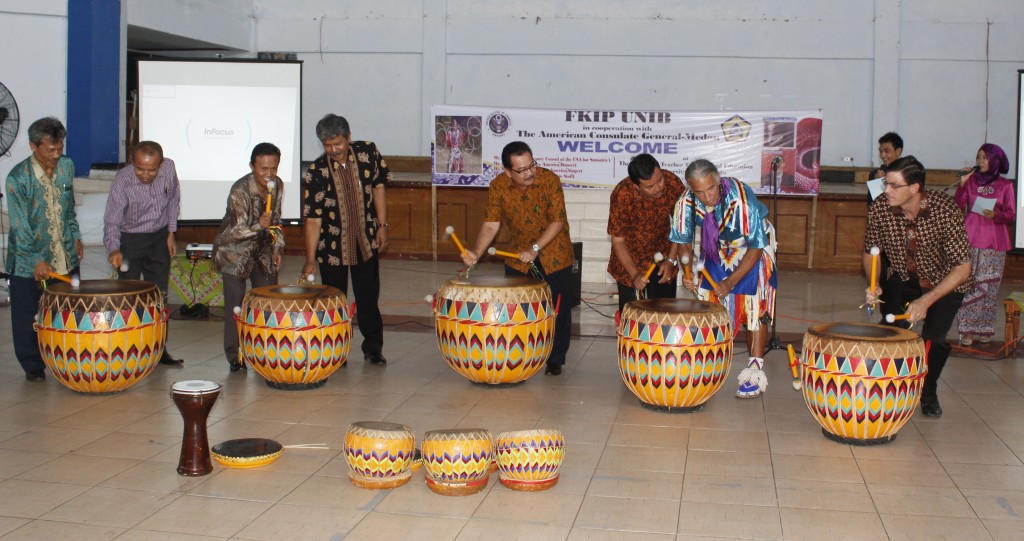 Rektor UNIB Dr. Ridwan Nurazi, SE, M.Sc sangat mengapresiasi kegiatan ini, sebab melalui kegiatan ini diharapkan dapat membuka wawasan dan cakrawala berpikir para generasi muda khususnya para mahasiswa tentang pentingnya pelestarian kebudayaan.
"Melalui kegiatan ini kita bisa tahu kesenian tradisonal Amereka, dan akan menumbuhkan kesadaran bahwa pelestarian dan pengembangan kesenian tradisonal sangat penting. Ini contoh bagi kita, meskipun Amerika merupakan negara terbesar dan paling maju di dunia, namun tetap melestarikan kebudayaan dan kesenian tradisional suku aslinya," ujar Rektor.
Pantauan Tim Humas UNIB, acara pentas kesenian tradisional Amereka itu dibuka secara resmi oleh rektor yang dilanjutkan dengan pemukulan alat musik dol secara bersama-sama oleh rektor dan konsulat AS.
Penampilan pertama dilakukan para mahasiswa dari UKM Seni UNIB yang melakukan atraksi pemukulan musik dol. Kemudian dilanjutkan dengan penampilan tarian Hoop oleh Kevin Locke dan nyanyian tradisonal Amerika oleh Wayne Silas.
Kedua seniman terkenal dari Amerika itu melakukan atraksi tarian dan nyanyian silih berganti dan disambut meriah oleh seluruh mahasiswa dan undangan. Penampilan sangat memukau terutama dilakukan oleh Kevin Locke. Setiap gerakan tarian Hoop yang dilakukannya selalu disambut gemuruh tepuk tangan oleh para mahasiswa.
Berdasarkan informasi dihimpun, Kevin Locke adalah seorang penari Hoop visioner ternama dunia, pemain suling khas Northern Plains yang unggul, seorang pendongeng tradisional, duta budaya, artis rekamanan dan pendidik.
Dari keluarga besarnya di berbagai bagian dunia, Kevin telah belajar banyak hal tentang kewarganegaraan global dan bagaimana kita dapat mengambil bagian dari warisan individual kita untuk turut menciptakan sebuah peradaban global yang hidup dan berkembang yang merangkul dan merayakan warisan bersama.[humas1]