Be Proud, ahead of the 74th Anniversary of the Independence of the Republic of Indonesia, three students of the Law Faculty of University of Bengkulu succeeded in becoming the First Champion in Constitutional Debate Competition for College Level in Indonesia held by the Constitutional Court of the Republic of Indonesia, at the Pancasila and Constitution Education Center, Bogor, on 13th
– 15th of August 2019. Announcement of winners was held on Thursday (8/15/2019) at Shangri-La Hotel, Jakarta.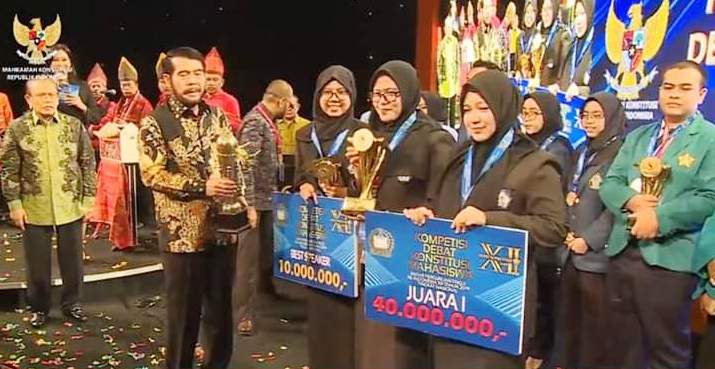 The three srikandi of Law Faculty of UNIB achievers in this prestigious event are Anisa Salsabilah, Umm Salamah, and Indah. In addition to being Champion I, even more proud is because Anisa Salsabilah was also named as the Best Speaker.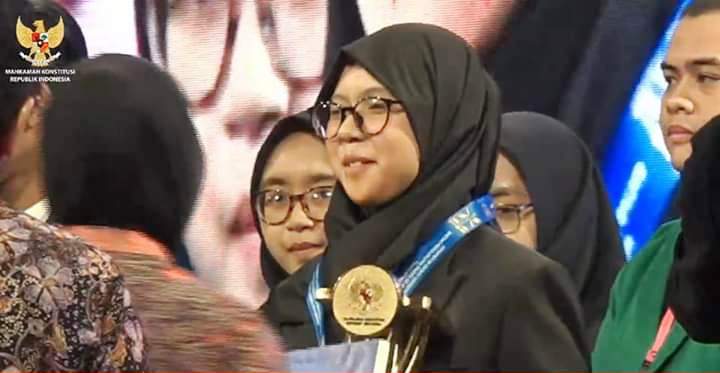 Vice Rector for Planning and Cooperation of UNIB, Dr. Ardilafiza, S.H, M.Hum and Dean of the Faculty of Law, Prof. Dr. Herawan Sauni, SH, MS, as well as the Head of Subdivision of Finance and Employee of the Faculty of Law, Budi Utomo, S.Pd, also attended the debate competition to provide support to Ummu, Salsa and Indah.
Reportedly, in this final round, the Debate Team of UNIB succeeded in becoming the First Champion after defeating Syiah Kuala University (Unsyiah) which is the oldest university in Aceh.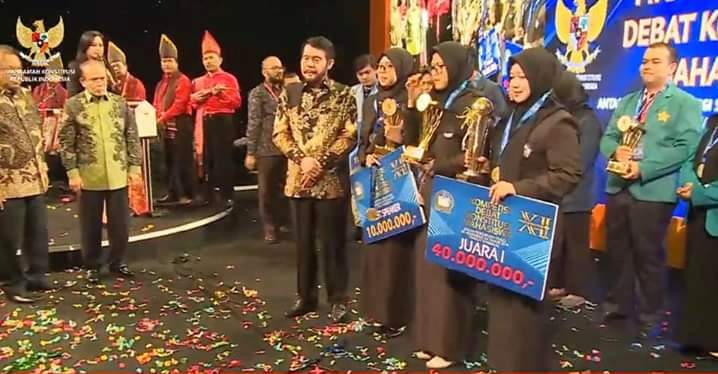 For this success, the Debate Team of UNIB received a trophy and a reward fund of Rp.40 million as a prize for Champion I and  Rp.10 million for Anisa Salsabilah as the Best Speaker. The trophy and prize were handed over directly by the Chair of the Constitutional Court of the Republic of Indonesia, Dr. Anwar Usman, SH, MH  witnessed by other Constitutional Court members and invited guests.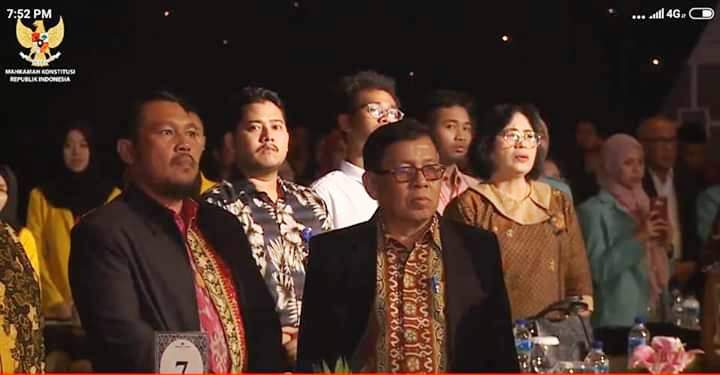 This Student Constitutional Debate Competition has become a routine agenda, held annually by the Constitutional Court of the Republic of Indonesia. Now it is being the XII debate competition.
Based on information compiled, in the final round of the Constitution Debate Competition of 2019, 24 universities passed from three regions. Finalists from the Western Region, namely Syiah Kuala University, Sriwijaya University, University of Indonesia, University of Bengkulu , Andalas University, Padang State University, Maranatha Christian University, and Padjadjaran University.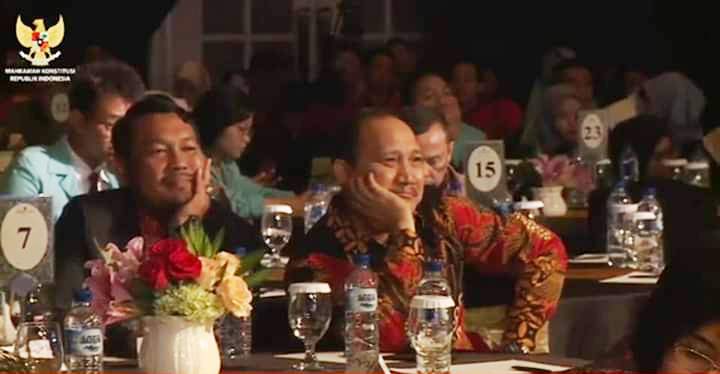 While finalists from the Central Region, namely Sebelas Maret University, Mulawarman University, Tarumanagara University, Gadjah Mada University, Tanjungpura University, Uin Syarif Hidayatullah Jakarta, Satya Wacana Christian University, and Diponegoro University.
While the Eastern Region was represented by Airlangga University, Surabaya University, Muhammadiyah University of Malang, Sam Ratulangi University, Khairun University, Indonesian Muslim University, Brawijaya University, and Mataram University.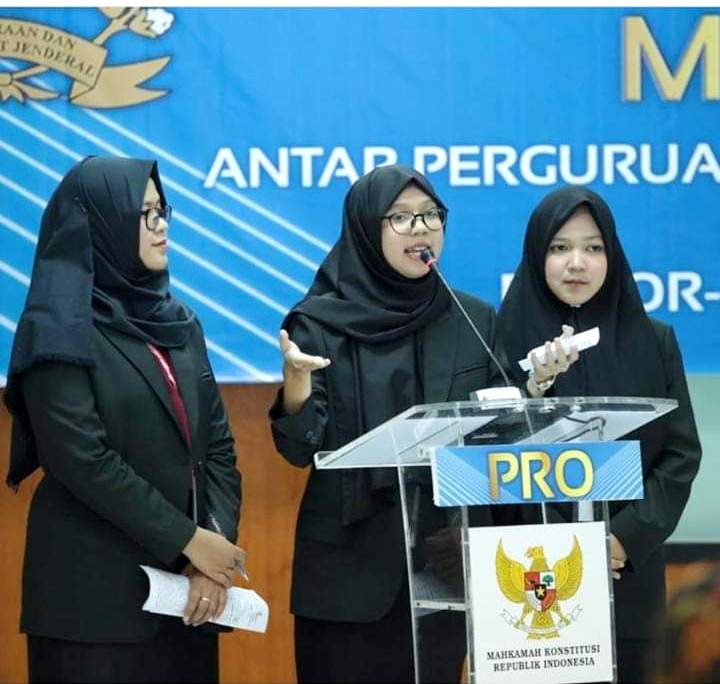 The Debate Team of FH UNIB advanced to the national level after winning IV place in the Regional Constitutional Court Debate Competition held at University of Bengkulu on April 4th-6th, 2019. The position of UNIB under the Unsyiah's Debate Team which at the regional level succeeded in becoming the First Champion followed by Sriwijaya University as the Second Champion and University of Indonesia won the Third Champion. Congratulations for the Three Srikandi of FH UNIB ! [Hms1/foto medsos/eve].